Nie každý, kto chce využívať Linux ako server, je s Linuxom kamarát. A preto je tu Cockpit.
Čo je to Cockpit?
Cockpit je webové grafické rozhranie pre Linuxové servery a je určený hlavne pre tých, ktorý s Linuxom nepracujú tak často, aby si pamätali príkazy. Cockpit tak umožňuje základnú správu Linuxu ako napr:
nastavenie siete
nastavenie firewallu
správa diskového priestoru
prehľadávanie systémových logov
kontrola systémového hardware
update softwaru
prehľad o vytažení systémových zdrojov
zapínanie/vypínanie systemd služieb
použitie serverového terminálu vo webovom okne
…
Keď sa nad tým zamyslíte, tak už len to, že si môžete jednoducho prezerať logy, zapínať a vypínať služby alebo použiť terminál bez toho, aby ste museli mať povolené SSH, je výborné. Ak ste z toho rovnako nadšený ako ja, poďme si ukázať inštaláciu a pár prvých krokov.
Inštalácia a prvé kroky
Inštalácia je ultra jednoduchá. Postup budem písať pre distribúciu Ubuntu ale pre ostatné distribúcie je postup na oficiálnych stránkach.
Najprv si urobíme update balíčkov v našom OS.

 sudo apt-get update 

A teraz (v prípade že máme prístup na internet) nám stačí napísať už len

 sudo apt-get install cockpit 
Po prihlásení sa sa dostaneme na úvodnú stránku kde sú základné info našom systéme.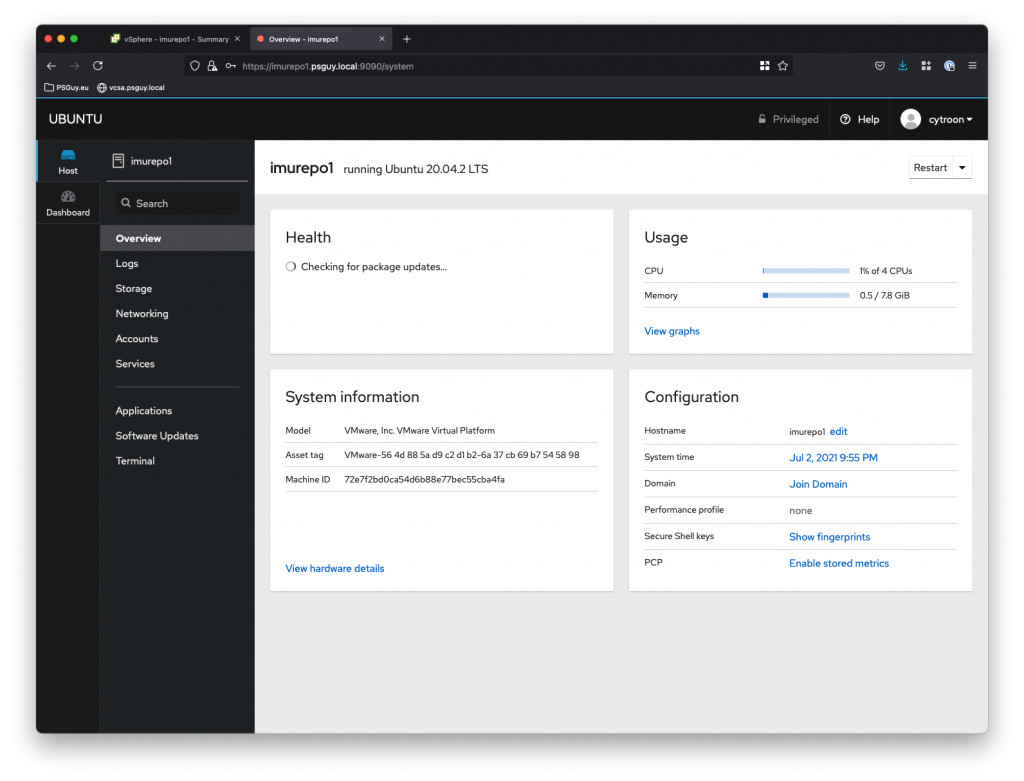 V prípade, že náš systém je čerstvo nainštalovaný (ako v mojom prípade) prvé kroky by mali viesť ku koretknému nastaveniu času. Urobíme tak kliknutím na dátum v pravej spodnej časti obrazovky. Ak sme na Slovensku alebo v Čechách, polia môžeme vyplniť nasledovne: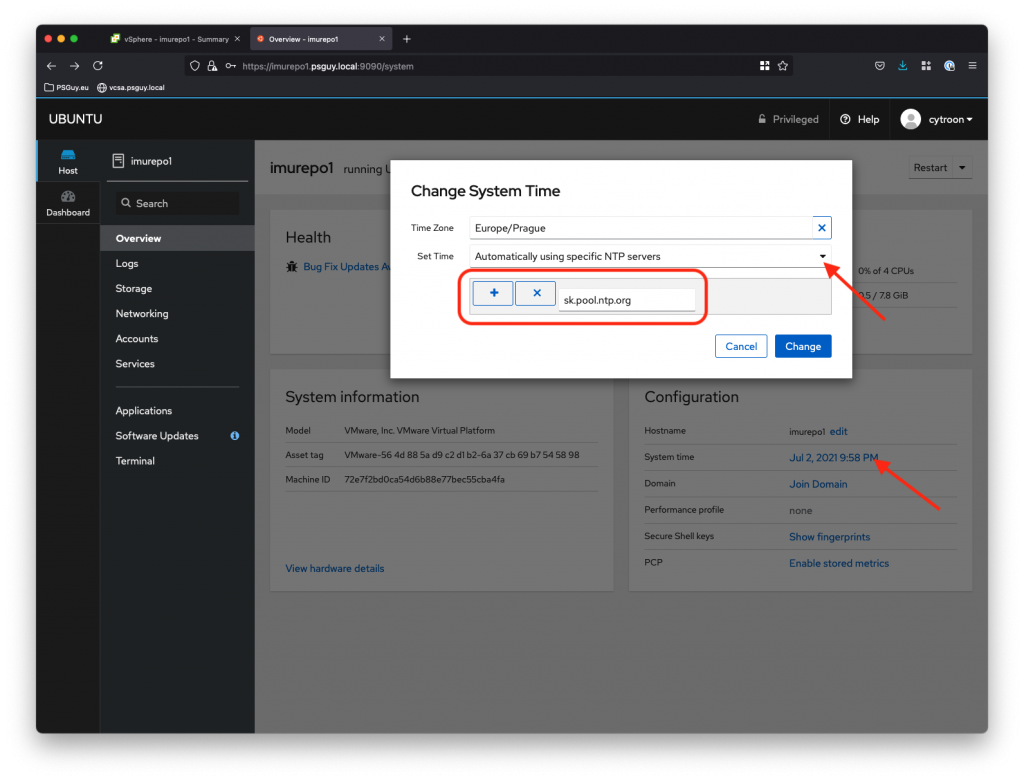 Po potvrdení zmeny časového pásma a NTP servera sa nám na úvodnej stránke v sekcii Health zobrazí "Bug Fix Update Available". Po kliknutí na toto oznámenie, dostaneme zoznam opráv ktoré môžeme (a mali by sme) aplikovať. Urobíme tak kliknutím na tlačidlo Install All Updates.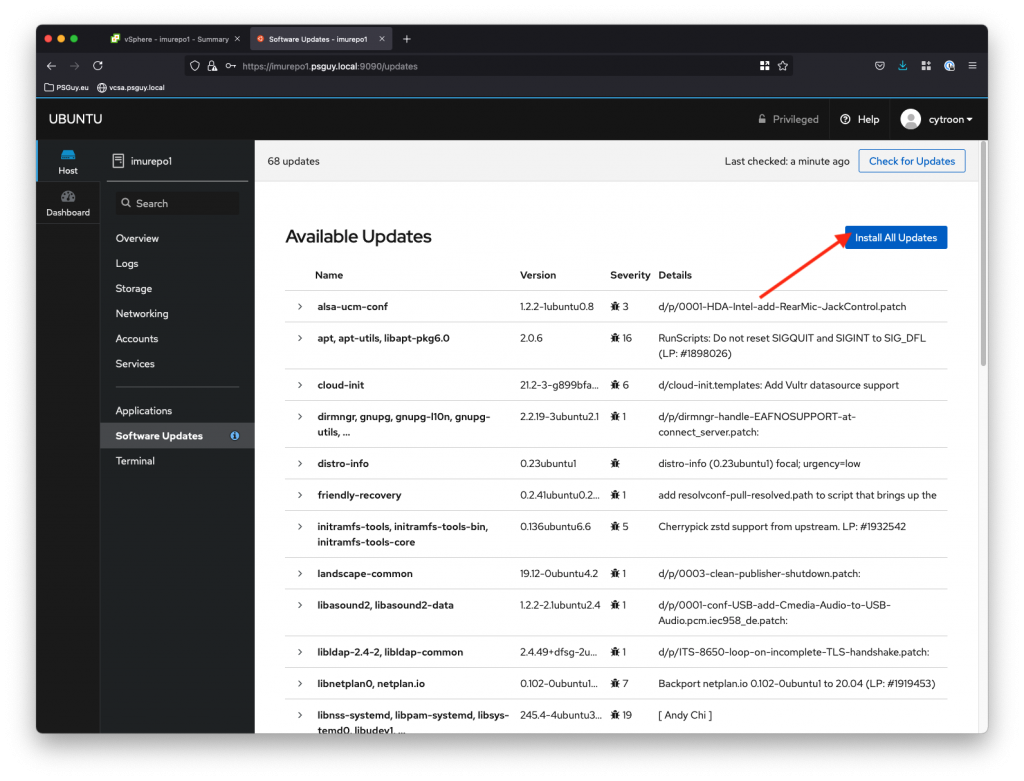 O niekoľko sekúnd alebo málo minút nás Cockpit vyzve na reštart.
Počas restartu bude Cockpit samozrejme nedostupný…
…alebo po kliknutí na tlačidlo Reconnect a prihlásení sa, dostaneme súhrnné info o updateoch. 
Poznámka pod čiarou #1
Ak máme nainštalovaný Linux ako VMware Virtual Machine, môže sa nám stať, že v logoch Storage uvidíme oznámenie: sdx: failed to get sysfs uid: Invalid argument.
Na toto je relatívne rýchla pomoc. Stačí keď vypneme VMku. Klikneme na Actions -> Edit Settings -> VM Options.
Otvoríme si položku Advanced a v nej klikneme na EDIT CONFIGURATION…
V Configuration Parameters klikneme na tlačidlo ADD CONFIGURATION PARAMS a doplníme
Name: disk.EnableUUID Value: TRUE
Týmto sme teda docielili, že problémové hlásenia s multipath už v logu nebudú.
Poznámka pod čiarou #2
Môže sa vám prihodiť to, že po kliknutí na Software Updates, dostanete toto hlásenie: Cannot refresh cache whilist offline
V tomto prípade sa rovno prepnite na Terminal a otvorte si vo vašom obľúbenom textovom editore 00-installer-config.yaml
 sudo nano /etc/netplan/00-installer-config.yaml 
a doplnte na jeho koniec renderer: NetworkManager.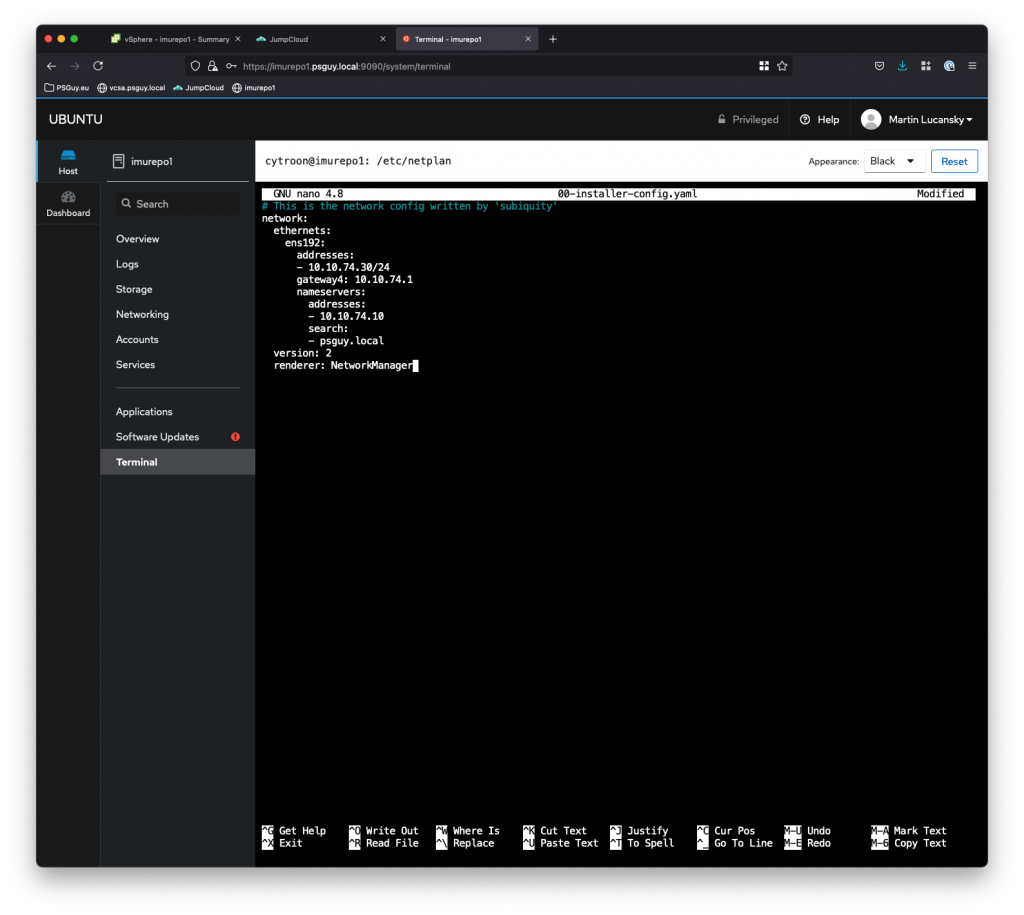 Po následnom reboote už Check for Updates zbehne bez najmenších problémov. ;-)
Záver
Mám rád Cockpit. Mám ho rád preto, lebo mi dovoľuje správu Linuxu bez toho, aby som musel mať povolené SSH. To je pre mňa kľúčová vlastnosť. Pre vás to však možno bude niečo iné. Každopádne Cockpit ponúka množstvo využití a každý z nás, si vyberie tú svoju.