No schválne, koľko krát vám už napadlo pripojiť USB disk k ESXi hostu? ;) Mňa veľakrát, no nikdy som nenašiel dôvod sa tým zaoberať. Až prišiel čas domáceho labu a dôvod sa našiel.
USB kľúč používam v NUC labe, ako úložisko ISO súborov. Je to lacná kapacita, od ktorej nepotrebujete výkon. Poďme si ukázať postup ako takýto USB disk pripojiť a vyrobiť na ňom datastore.
! Myslite na to, že toto NIEJE vmwareom podporované riešenie
!! Kapacita väčšia ako 2TB ani vo verzii 6.5 nieje podporovaná
Otvorte terminál a prihláste sa na tento ESXi host
Stopnite službu USB arbitrator. Táto služba sprostretkuváva pripojenie USB zariadenia priamo do VM. Takže je nutné popremýšlať, či vám nebude chýbať nemať možnosť pripojiť USB do virtuálnej mašiny.

/etc/init.d/usbarbitrator stop

Zakážte túto službu, aby sa vám po reštarte hostu znova nezapla

chkconfig usbarbitrator off

Pripojte USB zariadenie k ESXi hostu a skontrolujte, či bolo správne pripojené.

ls /dev/disks

V mojom prípade je to mpx.vmhba33:C0:T0:L0. Niekedy aj vo verzii 6.5 ale v starších verziách budete vidieť naa.X.

Zapíšte GUID Partition Table

partedUtil mklabel /dev/disks/mpx.vmhba33:C0:T0:L0 gpt

Na to, aby ste mohli vytvoriť partition, musíte poznať prvý a posledný sector. Štartovací sector je stále 2048 a GUID pre VMFS je AA31E02A400F11DB9590000C2911D1B8Postup pre výpočet posledného sectoru je: 1974*255*63 -1 = 31712309
Vytvorte VMFS partitíciu

partedUtil setptbl /dev/disks/mpx.vmhba33:C0:T0:L0 gpt "1 2048 31712309 AA31E02A400F11DB9590000C2911D1B8 0"

Novovytvorenú partitíciu treba naformátovať

vmkfstools -C vmfs6 -S USB-DS /dev/disks/mpx.vmhba33:C0:T0:L0:1

A už ostáva iba otvoriť esxi clienta a skontrolovať, či je datastore správne pridaný.
Ak by ste chceli vidieť ako vyzerá postup v celku, tak takto: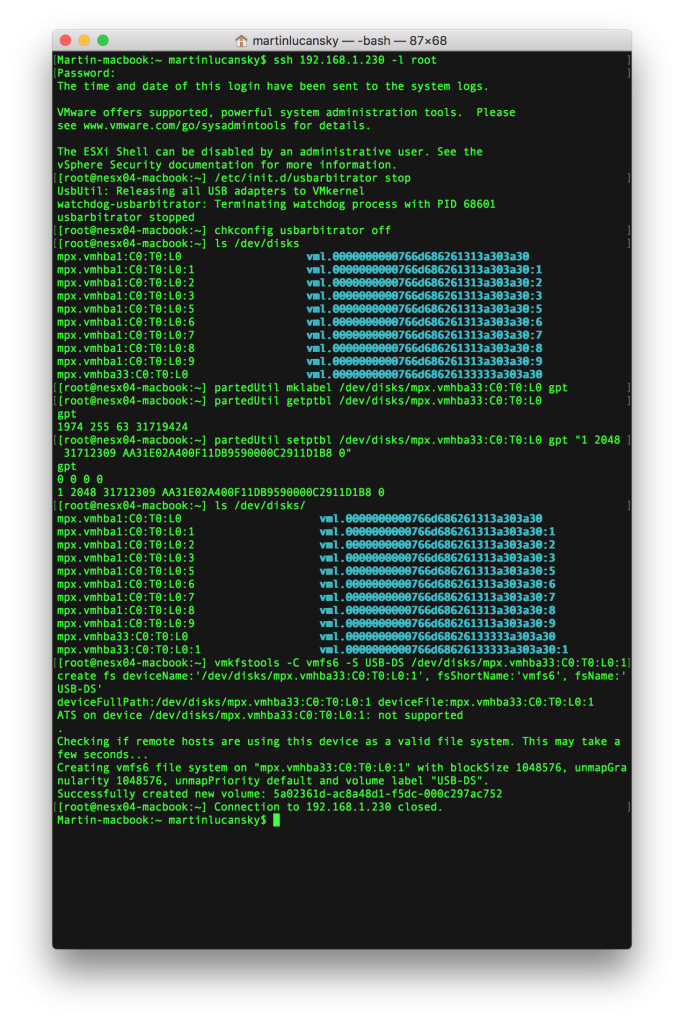 Poďakovanie patrí webu virten.net kde je problematika o niečo viac popísaná.